Montgomery Christian Academy
Private Christian Education in Montgomery Texas
K4 – 8th Grade
Schedule a Tour
Fun Friday LunchES
Oct 27th: Nachos w/Cheese
Nov 3rd: Pasta w/ Meat Sauce
Nov 10th: Chicken Tenders w/ Fresh Fruit & Roll
Nov 17th: Thanksgiving Meal 
Basketball: Tues/Thurs
3:30PM-4:15PM
Nov 3rd: Hearing/Vision/Speech Screening
Nov 6th: Serve Team Meeting 3:15-4:15PM
Nov 10th: Veteran's Day Program at 1PM
Nov 11th: MCA Fall Festival, 10:00AM-4:00PM
Nov 14th: Board Meeting 6PM
Nov 17th: Fall Classroom Parties at 1PM
Nov 20th-24th: Thanksgiving Break
Nov 30th: Last Day of Basketball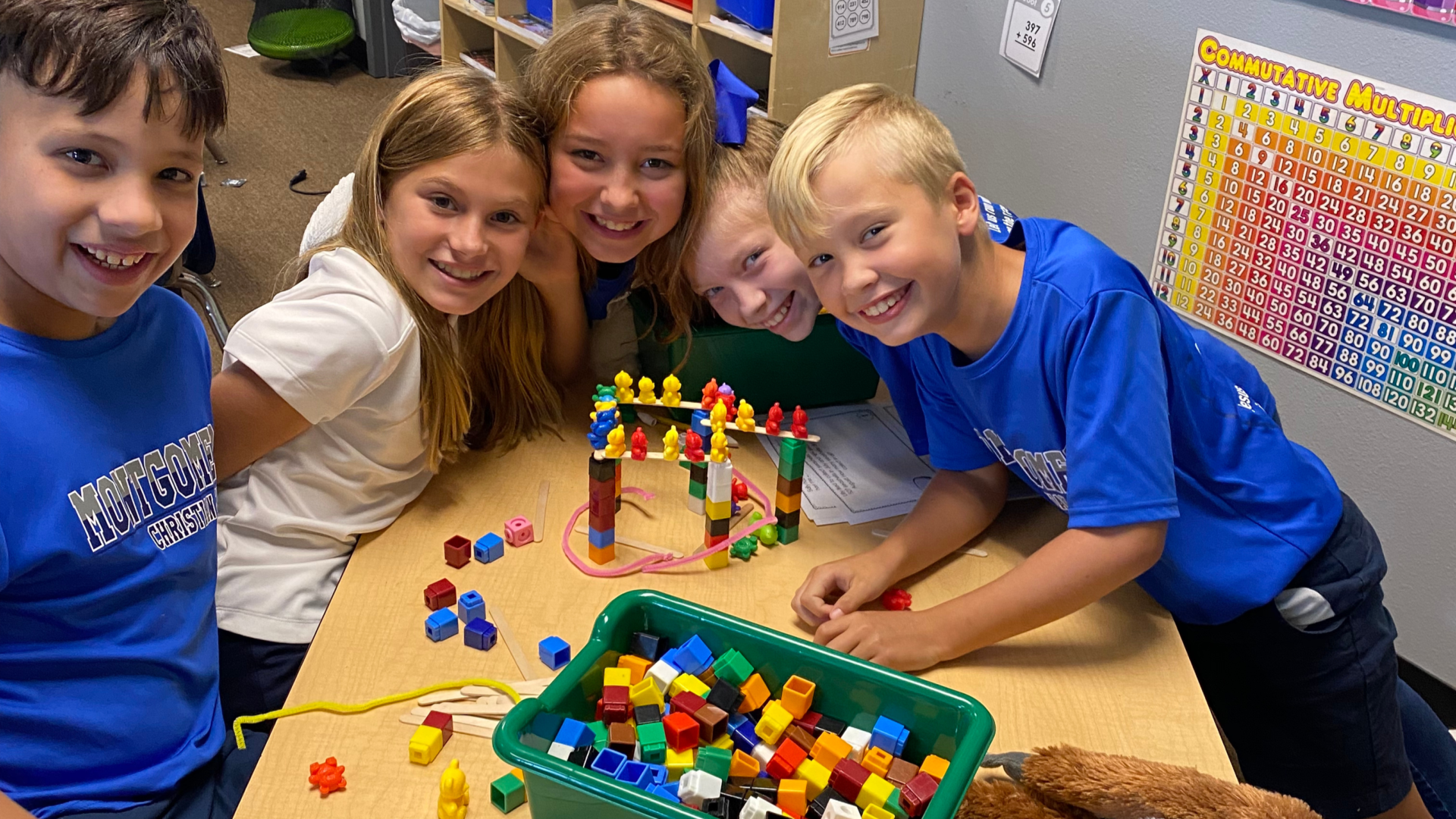 Montgomery Christian Academy is a launching pad for students in the pursuit of lives that please the heart of God. MCA prepares students with a biblical worldview for a lifetime of faith and service. Dually accredited, Faith-based Christian Education.
Montgomery Christian Academy – Excellent Private Christian Education in Montgomery, TX
Set your child on the right path by enrolling at the leading private Christian school in Montgomery, TX. Montgomery Christian Academy is a fully accredited private Christian school dedicated to education with a higher purpose.
Private schools can provide many advantages for young minds, including a safe learning environment and optimal class sizes. Students receive more individualized attention from teachers and access to learning that aligns with your values.
If you want your child to excel, consider applying to enroll at our Christian private school in Montgomery, TX. Learn more or contact us!
Location
12681 FM 149
Montgomery, TX 77316
School Hours
Monday – Friday
8:00 a.m. – 3:15 p.m.
"Train up a child in the way he should go, and when he is old he will not depart from it." Proverbs 22:6
Biblical worldview
Small Class Sizes
Fully certified and qualified teachers
Excellence in academics and character
Dual accreditation from Cognia and ICAA
Montgomery Christian Academy providing Christian Private School education for elementary and middle school students in Montgomery, TX
Montgomery Christian Academy (MCA) is a pre-K through 8th grade Christian private school in Montgomery, TX. We opened our doors in the fall of 2016 and became a fully accredited private school in 2020. Our school has a team of fully certified and qualified teachers and small class sizes.
At MCA, students receive an education with a biblical worldview. We are a Christian private school, which means that your child is taught in a Christ-centered learning environment. We believe in honoring Jesus Christ while challenging students academically to develop the next generation of leaders.
We are committed to the highest standards of behavior and academics. You can rely on our staff to prepare your child for success.
The areas we serve in Montgomery, TX include all of Montgomery County and the surrounding region. If you are interested in having your child attend our school, take a moment to review our admissions process. You can start the application process online.
Thank you for visiting Montgomery Christian Academy. We hope to see you in person soon. Apply, plan a visit, or contact us for more details. You can also browse our site to view upcoming events and news.
Absolutely love this school! Commitment to excellence in academics AND most importantly, taught from a Biblical world view that encourages children's growth in their relationship with Christ! The teaching staff is as "high-caliber" as you could ask for, bringing a combination of talent, experience and genuine passion & care for their students! This comfortable, healthy environment lends perfectly to allowing students to excel in their learning and growth! Check it out for yourself!
Our two boys have been at MCA for 5 years now, we and they love it. Excellent educators/staff and faith based education.
My family has called MCA home for the last six years! My oldest started kindergarten in 2016 when MCA opened its doors and is currently in 6th grade. Since then, I have added two more, currently a 4th grader and 2nd grader. The last several years have been such a blessing to my family and I am so thankful God has provided this opportunity for my boys. Love the Biblical curriculum they are being taught, that is #1. Let me tell you my boys Biblical knowledge impresses me daily! The teachers at MCA are AMAZING!! Love the small class sizes. The close-knit community of parents and kids are like family to me and I can't imagine going anywhere else. My boys LOVE MCA!!! If you live in the Montgomery area, come check out Montgomery Christian Academy for your family.
Stacey Williamson
2022-10-12
We have been at MCA for FIVE YEARS AND LOVE IT!!! The teachers are fantastic, the staff is friendly and helpful, and the Christian environment is present everywhere! This is what a wonderful education looks like!!!!
Rodney Craddock
2022-10-10
Montgomery Christian Academy is exactly what I was looking for. The staff are very professional and genuinely seem to care about ALL of the students. I ask my child daily what he's learning about, and I'm very impressed at the detail with which they approach the educational process. The Music and Art programs are a blessing and my child is definitely benefiting from the PE/Basketball offered here. If education is a priority for you and your children, I'd seriously consider Montgomery Christian Academy. GO KNIGHTS!
We are so blessed to have found MCA. Their is no doubt the Spirit of the Lord is working in this school with all the students, teachers, staff and even the families. We are so thankful we are part of this community!
Excellent teachers and staff! Our daughter loves this school; we're so thankful for this great Christian school!
What an incredible school! We love the commitment to excellence both academically and environmentally! We have 3 kids currently enrolled, with our 4th joining next year as well! The faculty and admin are as Top Notch as you could ever want and the personal, small environment is just perfection!! If you're even just a little curious, you should come check it out for yourself!!